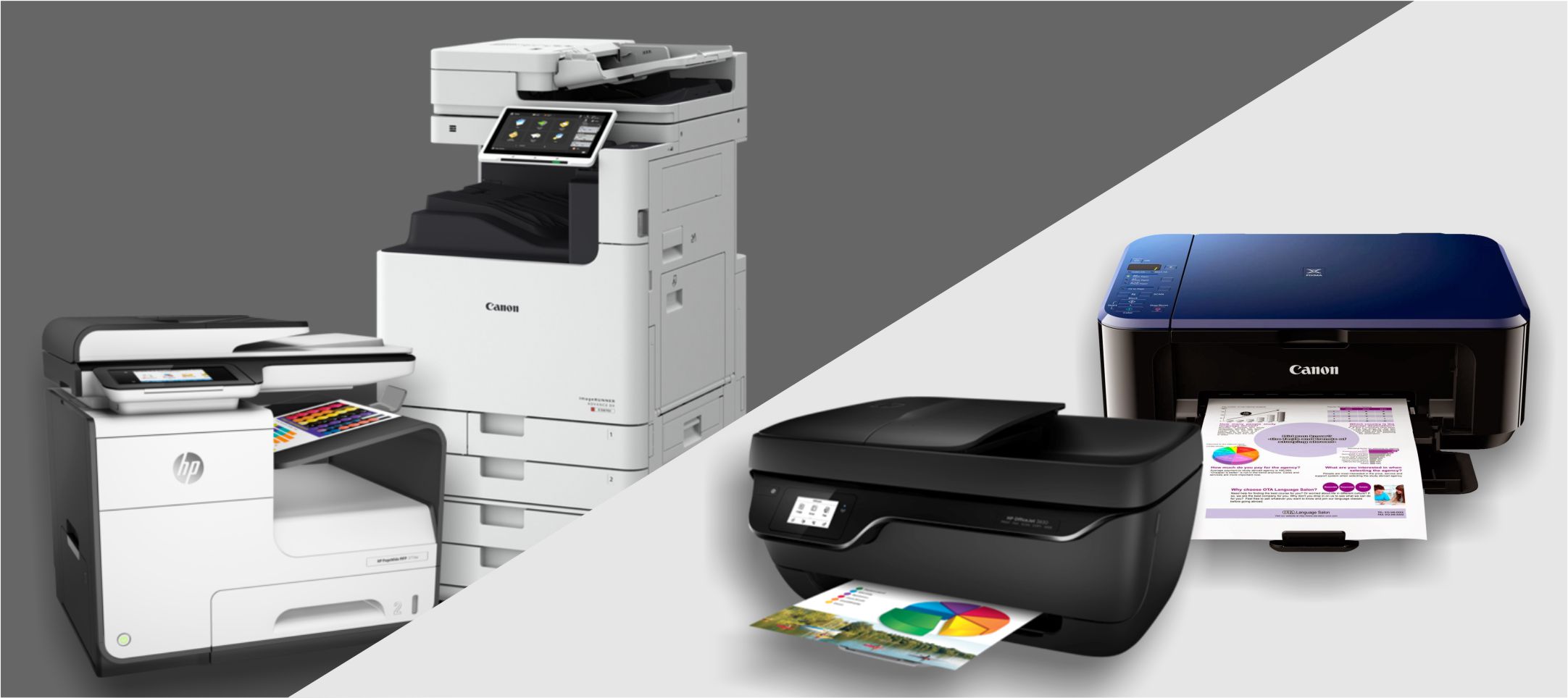 If you are in the market for a new printer, you may be wondering which type of printer would be the most appropriate for your organisation. The printer market is, at its highest-level split into two categories; office or professional business printers also called multifunctional photocopiers and smaller consumer printers which are usually purchased through traditional retailers, e-commerce stores or IT resellers. Both types of printers serve different types of organisations. This article discusses the differences between the two and will guide you in choosing the correct printer for your needs.
What is a Business Printer?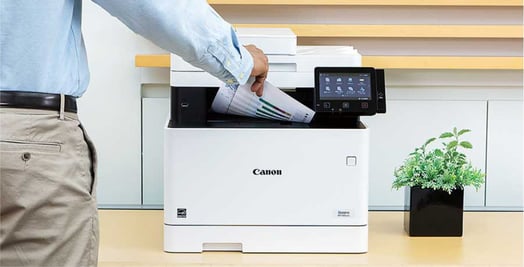 Multifunction Photocopiers, often referred to as office or business printers are typically provided by specialised managed print service providers or manufacturer-approved photocopier dealers. These larger printers can usually be rented by businesses over periods of 24 to 60 months or can be purchased outright. They are often connected to an IT network and form the central printing and scanning hub for organisations. These printers are maintained through service agreements between the dealer and organisation.
Some of the common manufacturer brands in the office printer sector include:
Canon

Konica Minolta

Kyocera

Ricoh

Nashua

Toshiba

Sharp
What is a Home Printer?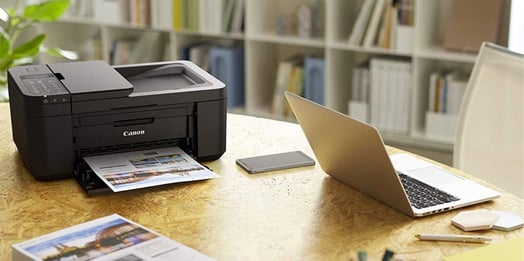 Home printers are classified as the smaller, desktop consumer printers which are typically purchased cash through traditional retailers, E-commerce stores or IT resellers. Consumer printers do not normally come with any level of after-sales support agreements which means parts and service for these printers are the responsibility of the buyer once the printer is purchased from the retail outlet.
Some of the common manufacturers in the consumer printer market sector include:
Canon

HP

Brother

Samsung

Lexmark

Epson
Factors to Consider When Comparing an Office or Consumer Printer
1. Manged Print Services vs Self-Managed Devices
Office or business MFP printers are solutions that typically include an after-sales Service Level Agreement. The Service Level Agreement ensures the printers remain up and running under heavy usage, allowing the organisation to focus on their day-to-day activities without the worry of maintaining their office printer(s). Items such as; parts, toner cartridges, and services are all taken care of with a managed print service.
With home printers, these devices are almost always purchased cash and come with no onsite support. Instead of an onsite Service Level Agreement, they usually come with a manufacturer's carry-in warranty which means that if something goes wrong with the device you can take it to a pre-approved repair centre near you to be assessed and potentially repaired depending on the manufacturer's warranty. Parts and toner/ink cartridges are the responsibility of the owner.
2. Print Volume
Print volume refers to how many pages your printer is capable of printing per month. How many copies/prints an organisation does per month will greatly affect whether a business printer or home printer would be more suitable. Business printers can handle large monthly print volumes, anywhere from 2 000 to 100 000 prints per month, making them a perfect choice for small to medium-size businesses and large workgroups. For businesses printing less than 1 000 prints per month, a small, home office printer could be sufficient.
For comparison, let's take a look at the Canon imageRUNNER C1325i, an office printer vs the Canon MAXIFY MB5440, a retail printer. The Canon imageRUNNER C1325i can handle a print volume of 10 000 prints per month while the Canon MAXIFY MB5440 can only handle a monthly print volume of 1 500 prints.
3. Multifunction Printer vs Print Only
All office printers are multifunctional, meaning they can print, scan, copy and sometimes fax. This however is not always the case with consumer printers, depending on the model, you may get a multifunctional home printer or a single function printer that can only print. Whether or not your organisation needs to scan, copy and fax must be considered when choosing a printer.
4. Inkjet Printer vs Laser Printer
The main difference between inkjet and laser printers comes down to the technology of how each one prints. Inkjet printers use liquid ink to produce text and images on the page. The ink is dispersed through a print head consisting of many micro-nozzles. The micro-nozzles spray microscopic dots of ink on the paper, forming the text or image. In contrast, laser printers use toner which is a type of powder. A drum inside the printer rolls the toner powder onto the paper which is melted with heat generated by the fuser unit and imprints the text or image on the page.
Both multifunction printers and single-function printers come in inkjet and laser although most office printers make use of laser technology. This is because laser printers are more economical than inkjet printers when printing larger volumes.
5. Print and Scan Speed
If your organisation is printing high volumes of documents and requires documents to be printed or scanned quickly, an office printer is the way to go. Multifunction printers are made to accommodate a workplace environment so they can print at much higher print speeds than entry-level home printers. More modern, home office laser printers can however print at high speeds these days, however, your more entry-level inkjet printers print much slower. Laser printers generally can print between 20 to 80 pages per minute while inkjet printers can only print between 10 to 25 pages per minute depending on the model.
6. Upfront Printer Costs
Regardless of your organisation's size, your budget is one of the biggest factors to consider when buying a printer. It is well known that small home office printers cost significantly less upfront than their laser counterpart. This is because, they are much smaller and cheaper to manufacture, they do not offer nearly as many features as office printers do and they have a very short lifespan. Apart from all of this, manufacturers of these printers rely on making their revenue from the ink cartridge sales, which is often why these are so expensive. Business printers on the other hand, do have a considerable higher upfront cost attached to them, but the total cost of ownership over the lifespan of the printer ends up working out much cheaper than your home printer.
7. Cost Per Print and Cartridge Yield
Cartridge yield refers to the number of pages a toner or ink cartridge can print per cartridge. Business printers making use of toner cartridges have much higher cartridge yields than home printers do. This means they can print a significant amount of pages before needing to replace the toner cartridge and therefore cost substantially less per page than a home printer. The cost per print is one of the best ways to measure how cost-efficient your printer really is. To calculate your printer's cost per page, divide the cartridge yield by the cost of the cartridge.
Let us look at an example:
The black toner cartridge for the Canon imageRUNNER C1325i has a yield of 16 500 pages and sells for R770.00. Calculation – 770 / 16500 = R0.05c cost per page.
The black ink cartridge for the Canon MAXIFY MB5440 has a yield of 2 500 pages and sells for R799.00. Calculation – 799 / 2500 = R0.32c cost per page.
Based on the above calculations, you can see that the Canon imageRUNNER C1325i has a significantly cheaper cost per page compared to the Canon MAXIFY MB5440.
Key Differences Between Managed Office Printers and Consumer Home Printers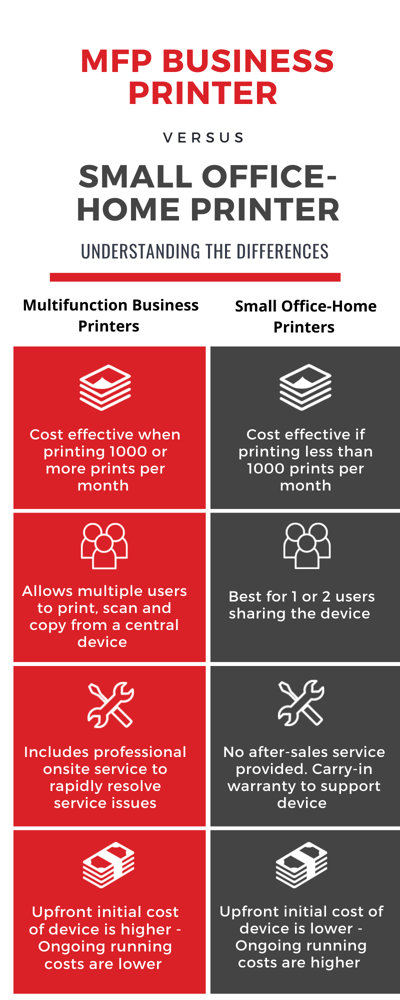 Which Printer is Right for You?
Use the questions below to guide you in determining which printer option is right for your business.
Business Printer Questions

Home Printer Questions

Does your business print more than 1 000 prints per month?

Does your business print less than 1 000 prints per month?

Do you want professional after-sales support?

Are you happy to service and maintain the device yourself?

Do you have multiple printers in your business?

Are you happy to source and replace your own cartridges?

Do more than 2 users need to use the printer?

Will only 1 to 2 users be using the printer?

Is printing a critical aspect for the day-to-day running of your business?

Does your business only print occasionally?

If you answered yes to most of the questions above, then an office printer is best for you.
View Business Printers
If you answered yes to most of the questions above, then a home printer is best for you.
View Home Printers
Total Cost of Ownership Calculation Comparison
Below, we take a look at two Total Cost of Ownership examples to understand the upfront and running costs of a business printer vs a consumer printer over time.
Carrying on from our previous examples, we have used the following devices in the cost comparison:
Home Office Consumer Printer - Canon MAXIFY MB5440

Entry-Level Business Printer - Canon imageRUNNER C1325if
Canon MAXIFY MB5440

Canon imageRUNNER C1325if

Cost of device

R3 700.00

R21 499.00

Cost of black toner

R799.00

R770.00

Yield of black toner

2 500 pages

16 500 pages

Cost of colour toners

R599.00 x 3 (C-M-Y) = R1 797.00

R1 400.00 x 3 (C-M-Y) = R4 200.00

Yield of colour toners

1 500 pages each

11 500 pages each

Pages per month

1 500 ppm

1 500 ppm

Colour pages per month

25%

25%

Years

3 years (36 months)

3 years (36 months)

Total Cost of Ownership Calculation Over 36 Months

Total black pages

1 500 x 36 = 54 000

1 500 x 36 = 54 000

Total colour pages

54 000 x .25 = 13 500

54 000 x .25 = 13 500

Black cartridges required

54 000 / 2 500 = 21.6 (this needs to be rounded up to 22 cartridges)

54 000 / 16 500 = 3.27 (this needs to be rounded up to 4 cartridges)

Colour cartridges required

13 500 / 1 500 = 9 (this need to be multiplied by 3 for each colour = 27)

13 500 / 11 500 = 1.17 (this need to be rounded off and multiplied by 3 for each colour = 6)

Total cost of black cartridges

22 x R799.00 = R17 578.00

4 x R770.00 = R3 080.00

Total cost of colour cartridges
27 x R599.00 = R16 173.00


6 x R1 400.00 = R8 400.00

Total Cost of Ownership
R3 700.00 + R17 578.00 + R16 173.00 = R37 451.00
R21 499.00 + R3 080.00 + R8 400.00 = R32 979.00

Total Cost of Ownership per month

R1 040.31 per month

R916.08 per month
As you can see from the above calculations, the Total Cost of Ownership for the Canon imageRUNNER C1325if comes out cheaper compared to the Canon MAXIFY MB5440. Although the difference is not significant, it is important to keep in mind, that the difference between the two will increase as the volumes increase as well as the number of colour copies/prints your organisation does per month.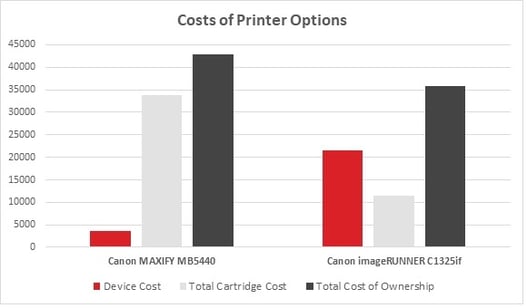 The Bottom Line
Deciding between a managed printer solution or a small office-home office printer is ultimately dependant on what your organisation's requirements are. There are multiple advantages of a multifunction printer including, lower Total Cost of Ownership, volume capacity, service level agreements and print speed. If, however, your workspace or environment only has one or two members using the printer, prints a very low monthly volume and is happy to maintain the printer yourself then we would recommend you purchase a retail office printer. If your organisation has multiple users connecting to the printer, prints medium to large volumes and does not want the hassle of maintaining the printer yourselves, a business printer would be more suited for your organisation.