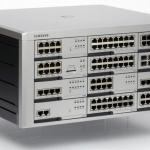 United Business Double Cabinet PABX installation
United Business Solution is proud to announce the successful installation and set - up of a dual cabinet Office serv 7400 PABX system in a flagship luxury accommodation hotel situated in the CBD of Pretoria.
The Hotel approached United Business for a competitive quotation on a new Switchboard system, after successfully winning the bid with regards to pricing, service and quality United Business began our site analysis at the Hotel. Our qualified sales representative and technical staff accessed the premise, carefully noting all that was needed to be done, including the cleaning up of the hotels existing cables, removing their previous PBX system and adding trunking to the server room to ensure that it would be left in a neat and tidy manner in the future. The technical team installed an additional cabinet for the new PABX system that was set up to ensure that our equipment and PABX server unit was easily identified and kept secure in the hotels server room.
After careful assessment the decision was made that the best solution for the hotel would be a Samsung 7400 double cab server based PABX switchboard, the reason for this decision was mainly due to the amount of lines the Hotel required upto 260 extensions with room to add on more when the need arose in the future. The meaning of a double cab unit is quite simple, once the first unit is filled you are able to move onto the second unit and therefore have the extra extensions for growth in the future.
Being a hotel we decided that additional security on the phones was necessary and therefore installed an application that blocked all the rooms extensions only allowing guests to have access to the phones in the room with a pin code that they receive during check in, this code unblocks the phone giving full access to the guest during their stay.
Our Technicians worked after hours and right through the night, to ensure that the hotels PABX system experienced minimal down time. The cut over from the hotels existing PBX system to the new one being installed was done at midnight making sure that the hotel was not affected during the day.
The installation of the new equipment was a huge success and we had positive feedback from the customer. United Business followed through with all promises made to the customer with regards to timely service, minimal downtime and a world class system that has changed the way the hotel will do business going forward.
Contact us to get further information