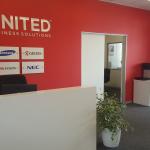 We are excited to announce that our Cape Town branch recently moved to new offices at the beginning of March 2018. Our Western Province team happily opened the doors to our new Cape Town office located in polished and modern surroundings of Milnerton, better suiting our brand and allowing space for our continued growth.
The new United Business/Intervid office is located at:
Block C, 1st Floor
Sable Square
Cnr of Bosmansdam & Ratanga Roads
Milnerton, Cape Town.
Our phone numbers have not changed, and you are still able to reach us on 086 122 2983/021 207 1961.
The move brings to our Cape Town branch a new chapter with exciting plans to consolidate a growing team and product range that will better support the requirements of our current and future clients. The space lends itself to a more efficient and organized workspace with the addition of a demo room to showcase and demonstrate our refurbished and new photocopiers on offer, along with the rest of our office technology range. The location of the new office is conveniently central with restaurants and retail shops surrounding us that also add to the convenience and vibe for both our clients and staff.
We pride ourselves on being one of Cape Town's leading Office Automation and Telecommunications companies. United Business and Intervid supply a number of business solutions including; multifunction copiers and printers, PABX's and Switchboards, Voice Connectivity, CCTV and Access Control.
We offer a wide variety of Printer, Photocopier, PABX, and CCTV brands and are therefore able to efficiently provide Western Cape business with a solution that meets their needs. Give us a call or email us to arrange for one of our expert solutions consultants to visit your location and perform a cost saving assessment of your office needs, we are committed to offering the best solution available to your organisation.
We look forward to welcoming you to our new offices and invite you to visit our demo room!