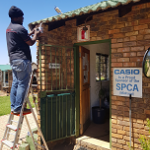 In August this year, the Midrand SPCA unfortunately experienced an armed robbery wherein a number of items were stolen. The SPCA turned to the public for donations to replace the stolen items as well as to boost security on their premises. Our sister company, Intervid-Africa heard their plea and immediately jumped on board to offer a CCTV system.
Intervid-Africa has donated and installed a HikVision NVR, 6x HikVision cameras, a monitor and cables and software to support the network.
In a letter to Intervid-Africa, Brenda Lucas, Vice Chair of the Midrand SPCA, thanked the company for their generosity during the time of need. She wrote: "We would like to extend our gratitude to you and your team for the very kind and generous donation of a camera system to our SPCA. Thank you for making our SPCA a safer place for our animals and our staff".
We hope this will assist in improving safety and security on the premises and will give some peace of mind to their dedicated staff.
To find out more about Intervid-Africa click here
TAGS: