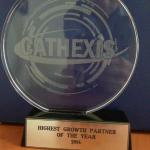 Cathexis Africa, a market leader and award winning innovator in CCTV surveillance, announced the Partner of the year winners for 2014. Intervid Africa is honoured to have been awarded Highest Growth Partner of the Year.

Ryan Lumley Director of Intervid; "The award is the culmination of a lot of work in 2014, put in by the whole Intervid Team, who have historically been a strong partner to Cathexis and with the relaunch of the brand Intervid-Africa we are looking to grow this out even further. Cathexis's wide range of CCTV analytics allows us to offer our customers a massive array of solutions."
The Cathexis brand presents Intervid with state of the art Surveillance options that offer easy and accessible solutions when integrating systems with access control, fire detection systems, alarm systems and many other applications. The freedom the Cathexis brand exemplifies enables Intervid numerous channels in finding the correct solution for our customers.

Intervid Africa focuses strongly on providing a sound service support system to all of our clients and therefore we choose with great care who we partner with, making sure that our partners principles are similar with that of ours here at Intervid. The below statement made by Gus Brecher, MD of Cathexis Africa verifies the similarities in both companies and establishes a great grounding for a lasting relationship;

"We strive to supply solutions to benefit the end-user's organisation, and increase their return on investment," says Brecher. "It's always been our objective to supply not just products – but integrated solutions. That's why we select our partners carefully, and align ourselves with partner companies that share this business ethos," Gus Brecher, MD of Cathexis Africa.
Please click on the below Cathexis logo to view our Cathexis range or Click on the Intervid Logo to view all solutions available


For Further information on Solutions Intervid Africa is able to offer your company please click on the link below.
Click here to Contact Us
Tel: 086 001 8101 email: info@unitedbusiness.co.za