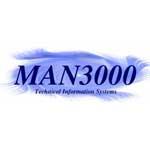 The Man3000 is a powerful easy to use management telephone information system, it's reliable, flexible and the multi user feature makes the Man3000 the leading Telephone management solution in the industry.
The Man3000 automated report scheduling, gives the manager of the PABX system full control of what is happening on a day to day basis with their Switchboard system. Adding to the main attributes of this management solution are features such as multiple level password protection, automatic emailing of unauthorized calls, budgets for extensions with notifications.
The Man3000 system has unlimited data base size which you are able to instantly export reports to acrobat files, excel/CSV files, text files, word documents, as well as being able to email these reports via Microsoft Outlook 2000.
Below is the list of reports Man3000 is able to capture.
Reports:
• Extension Summary Reports.
• Extension Outgoing Cost Reports.
• Extension Detail Reports with Budget Usage.
• Department Summary Reports.
• Department Detail Reports.
• Top 40/120/300 Reports by
1. Cost,
2. Duration,
3. Number Dialled.
• Exchange Summary Reports.
• Exchange Detail Reports.
• Account Code Reports.
• Client List Reports.
• Memorised Reports.
• Graphs
1. Busy Hour Graph,
2. History Graph,
3. Extension Bar Graph,
4. Extension Pie Chart,
5. Exchange Line Bar Graph.
Additional Features:
• Fully networkable via LAN and WAN.
• Built in Guest Package.
• Live Exports to Hotel and Attorney Packages.
• 20,000 Account Codes.
• 20,000 Client List Names.
• 20,000 Extensions.
• 2,000 Exchange Lines.
• 1,000 Departments.
• Compatible with ALL PABX's with RS232 or Ethernet [TCP/IP] Outputs.
• Multiple level mark-up facilities for call charges.
• Phantom Extensions.
• Phantom Exchange Lines.
The Man3000 is a powerful management tool, which gives you have full control over your Switchboard system and helps you keep your budget in order. No matter how big or small your business or organisation, United Business wants to help you manage your PABX/ Switchboard system and allow you to have full access to manage each month accordingly through the Man3000 system.
To find out more on the Man3000 Telephone information system please contact us.